 Webinars + Seminars 2021:
Exclusive training sessions on CAN-Bus technologies
Our world is moving on – in spite of Corona. Benefit from MicroControl's expertise to keep up with the latest developments in ICA, Bus and control technology as well as in CAN, CANopen and J1939 – online or on site! MicroControl's project activities in challenging markets with an extensive range of applications guarantee the course contents being relevant, up-to-date and user-friendly.
The CAN Basics Webinar outlines the physical characteristics of a CAN-bus system and the protocol structure of the fieldbus CAN and CAN-FD in theory and practical applications.
The CANopen Webinar offers engineers and users of devices a quick introduction to the CANopen communications profile CiA 301 and the device profiles.
The J1939 Webinar provides an overview of the CAN basics and enhances knowledge of the J1939 specifications.
Webinars starting in February 2021 – virus-free and efficient
In our exclusive webinars you will discover the opportunities of bus technologies for the future Our webinars are presented in 2 compact parts of 4 hours each and will be held via Zoom in German or English as desired. The materials used in the webinars will be sent to you before start of the session. For contents and dates please click here.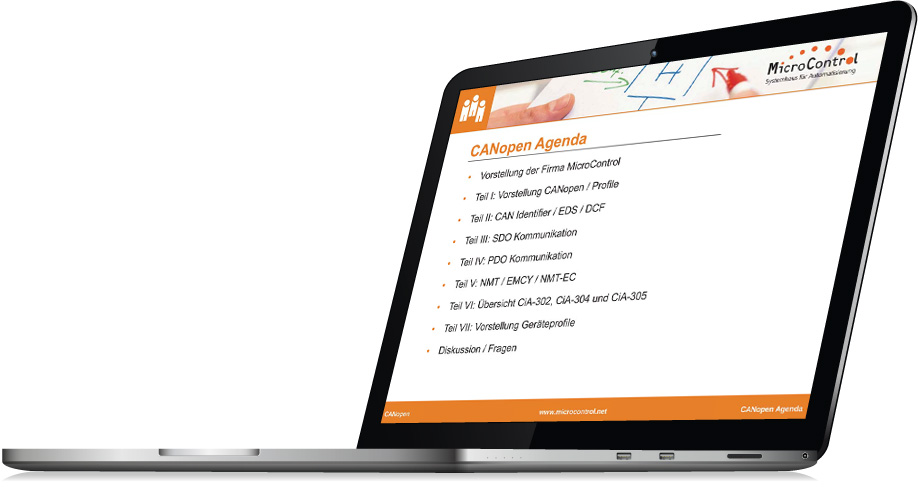 Presence workshops starting in summer 2021 – individually tailored to your requirements
Our new 1-day presence workshops about CAN, CANopen and J1939 which take place in our training centre in Troisdorf are scheduled to start in summer. For the workshop schedule, please click here.
Also, we would be pleased to suggest bespoke in-house training programmes at your site – in German or English as desired. Just contact us for more information.